The trademark is now marked as "abandoned" by the United States Patent and Trademark Office, with the latest signs that Intellivision Amico is unlikely to be released.
As reported by VGC, The trademark was originally submitted by Intellivision Entertainment on October 19, 2018 and subsequently approved on September 24, 2019. If the applicant has not submitted or requested a "statement of use" in accordance with the Trademark Guidelines, the application will be marked as abandoned. Extension of trademark within 6 months of approval.
Intellivision first requested an extension of the trademark on May 11, 2020. This was followed by three additional extension requests, the latest of which was approved on November 18, 2021. Then, after the intellivision, a notice of abandonment was submitted on June 21, 2022. Failed to send the 5th extension request.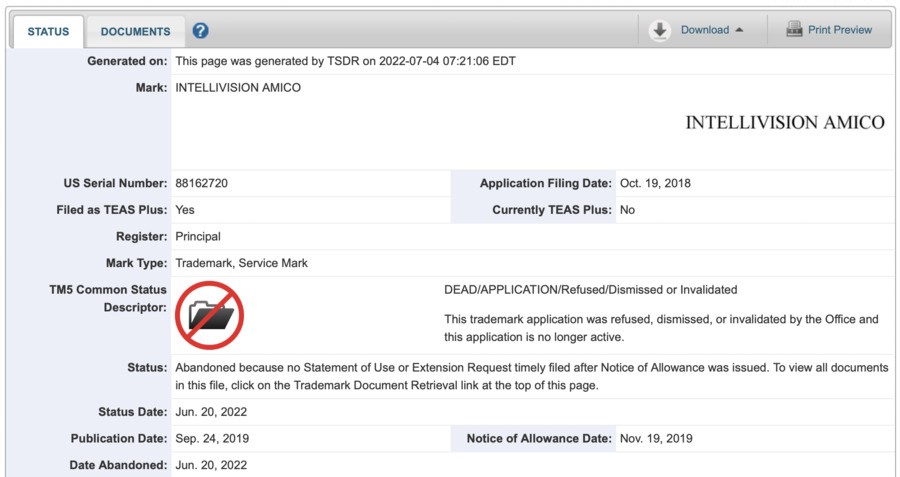 Intellivision now has to file a "petition for resurrection" for two months from the date of abandonment if it wants to retain the trademark, but the inability to request further expansion is probably by no means a problematic console. It may not be the clearest sign so far, and it has been released commercially.
Just last month, Intellivision raised some eyebrows when it saw a significant reduction in staff to assist the console throughout the finish line. We also confirmed that these drastic measures would delay some customers' reimbursement requests due to the reduction in personnel and funding requirements needed to continue operations.
That certainly doesn't seem to be good for Intellivision Amico. What do you think of this latest update? Share your thoughts in the comments below.